BPCA Winter Fishing Derby
A Hardwater Tradition
---
60th Annual Brice Prairie Ice Fishing Derby
Saturday February 1, 2020
North Shore, Lake Onalaska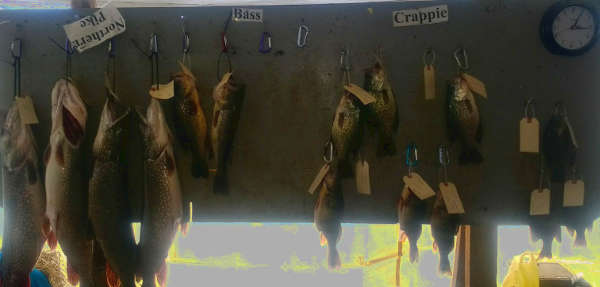 Winning "Big Fish" Board from the 2019 Derby
(Empty hooks represent fish that were released or retained by fisher)
(Click to Enlarge)
2 bass. Really? Perhaps the high and wildly fluctuating water levels that have plagued fishing all winter had something to with it - Mississippi River discharge at Dresbach on Derby Day was 54,000 cfs, down from 64,000 only 2 days earlier. Otherwise it was a pleasant derby day with temperatures reaching 40 degrees, with sunny afternoon skies and winds west and northwest at 8-10 mph. Ice cover has been relatively thin and patchy all winter (warm temperatures and high-water river currents are to blame), with only a small number of trucks and cars on the ice this year. Amazingly, there were no reports of vehicles going through the ice except one shallow-water dunking for an ATV. This year the tent was moved to the Mosey Landing upper parking lot, just above Schafer's bait shop. Fishing started at sunrise and ended at 3:00pm sharp. Cash prizes were offered for 1st thru 4th place for five fish species: bass, northern, bluegill, perch, and crappie.
All proceeds from the derby are reinvested in conservation projects around Brice Prairie and Lake Onalaska: Improved Boat Landings, River & Bike Trail Cleanups, Wood Duck & Bluebird Houses, Fish Cribs, Purple Loosestrife Control, Swamp White Oak Tree Planting, Emergency Shelters and more.
2020 Derby Fishing Results (lbs)
Northern Pike (lbs)

Patrick Atkins 14.04
Kyle Burnikel 11.86
Jake Limberg 10.53
Patrick Atkins 10.44

1st place northern, Patrick Atkins, 14.04 lbs

Bass (lbs)

Larry McGrath 2.33
Don Dickie 2.07
No entry
No Entry

Yellow Perch (grams)

Tylor Holzer 795
Lyndon Jackson 684
Garret Graun 601
Owen Piehl 562

Black Crappie (grams)

Klu Yang 579
Austin Oyen 575
Lyndon Jackson 560
Charlie Smith 552

2nd Place Crappie, A. Oyen 575 grams.
2020 Derby Raffle Results
$1000: Diane Mazzone
$500: Andrew Vittone
$400: Rick Wakeen
$250: Adam Thompson
$250: Bart Pedretti
$250: Afton Hamill
$100: Boyer Dovill
$100: Randy Reidt
$100: Tad Schwartzoff
$100: John Wetzel