BPCA Winter Fishing Derby
A Hardwater Tradition
---
63rd Annual Brice Prairie Ice Fishing Derby
Saturday February 4, 2023
North Shore, Lake Onalaska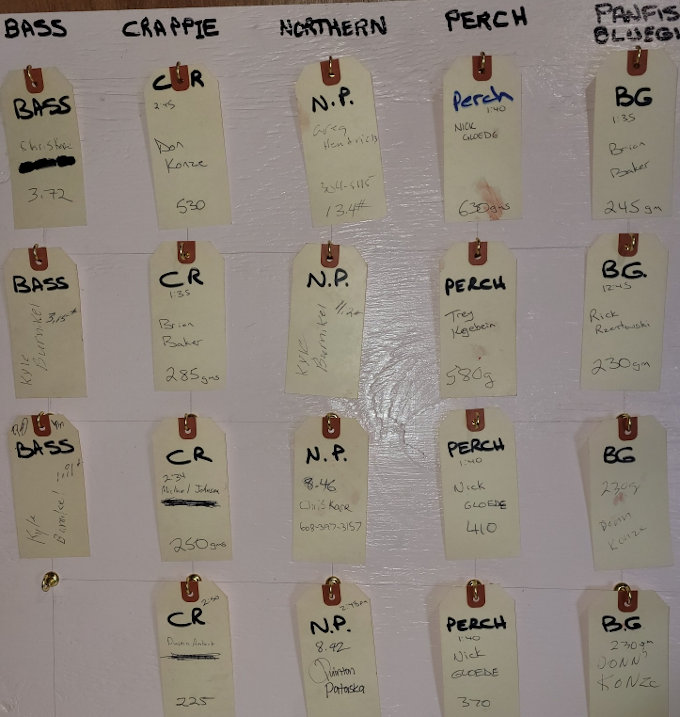 Winning "Big Fish" Board from the 2021 Derby

(Click to Enlarge)
A beautiful clear sunrise greeted the 2023 derby, with temperatures warming through the day from the prior cold spell, starting in low teens (above!) and warming to 31 degrees at the close of the derby. Winds were out of the south about 10 mph.
Fishing started at sunrise and ended at 3:00pm sharp. Derby headquarters was once again be the big heated tent at the upper parking lot of Mosey Landing, W7207 Northshore Lane on Brice Prairie (north shore of Lake Onalaska). Cash prizes were offered for 1st thru 4th place for five fish species: bass, northern, bluegill, perch, and crappie.
Stay tuned for 2023 Derby Results.....
Proceeds from the derby and raffle go to support ongoing BPCA conservation projects, including:
Wood duck houses (over 28,000 ducklings hatched since 1988)
Bluebird houses: 2,668 nestlings fledged in 2014 from houses maintained in the area
River and bike trail cleanups
River island reforestation: rearing and planting oak, hackberry, and elm trees
Fisheries habitat improvement (Lake Onalaska fish cribs, overwintering habitat)
Emergency shelters and light beacon on Lake Onalaska
Annual $500 conservation college scholarship
Sponsoring local Boy Scout Troop 21
Boat landing improvements
Vegetation cutting in Lake Onalaska travel routes