BPCA Winter Fishing Derby
A Hardwater Tradition
---
59th Annual Brice Prairie Ice Fishing Derby
Saturday February 2, 2019
North Shore, Lake Onalaska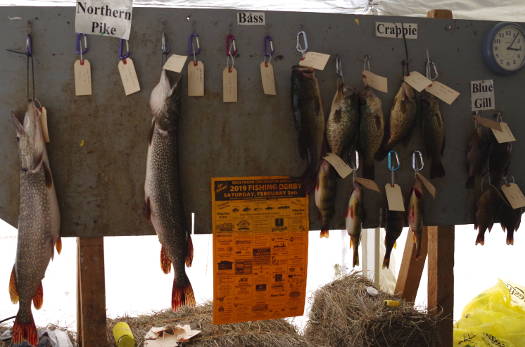 Winning "Big Fish" Board from the 2019 Derby
(Empty hooks represent fish that were released or retained by fisher)
(Click to Enlarge)
A quick thaw from the -31 polar vortex deep freeze only two days before the derby (40 degrees above on derby afternoon!) got a lot of folks out on the ice to get rid of cabin fever. It was a foggy, cloudy day with light south winds, but very pleasant out on the ice. Fishing started at sunrise and ended at 3:00pm sharp. Cash prizes were offered for 1st thru 4th place for five fish species: bass, northern, bluegill, perch, and crappie.
All proceeds from the derby are reinvested in conservation projects around Brice Prairie and Lake Onalaska: Improved Boat Landings, River & Bike Trail Cleanups, Wood Duck & Bluebird Houses, Fish Cribs, Purple Loosestrife Control, Swamp White Oak Tree Planting, Emergency Shelters and more.
2019 Derby Fishing Results (lbs)
Northern Pike

Kyle Burnikel 11.15
Mike Doeser 10.7
Nate Burnikel 9.9
Justin Newberg 9.74

Bass

Terry Jone 5.9
Todd Kudo 4.25
Jake Limberg 4.16
Stan Reynold 3.90

Yellow Perch

Jonah Waughtal 1.25
Kerry Fox 1.05
Jenna Justus 1.01
Justin Newberg 1.00

1st Place Perch, Jonah Waughtal 1.25 lbs.

Black Crappie

Dale Lenz 1.41
Brian Baker 1.40
Mason Benson 1.36
Brian Baker 1.27

1st Place Crappie, Dale Lenz 1.41 lbs.

Bluegill

Gary Hagel 0.8
Mike Goeser 0.71
Bradley Baker 0.70
Peter Heath 0.70

Brian and Bradley Baker, 3rd place bluegill, 2nd and 4th place crappie.
2019 Derby Raffle Results
$1000: Randy Reidt
$500: Afton Hamill
$400: Bonnie Page
$250: Lori Lopnow
$250: Chad Antony
$250: Betty Pfaff
$100: Marty Kirchner
$100: Dylan Dettmering
$100: Amy Stracener
$100: Dave Silbaugh