BPCA Receives 2005 NABS Award
At their annual 2005 meeting, the North American Bluebird Society (NABS) presented the BPCA with an award "For Outstanding Contribution To The Field of Bluebird Conservation":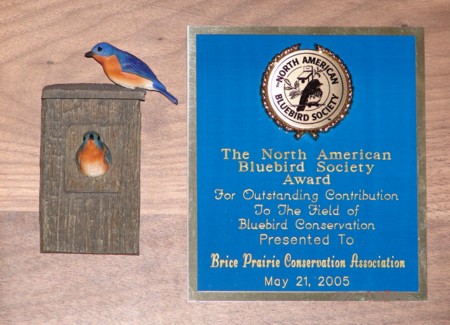 The North American Bluebird Society in presenting the award noted:
"The Brice Prairie Conservation Association (BPCA), located in Wisconsin, was honored for work with bluebirds and Wood Ducks, for planting Swamp White Oak trees in Mississippi River bottomlands, for work to control Purple Loosestrife, and for other conservation projects. The BPCA coordinates its bluebird efforts with the Bluebid Restoration Association of Wisconsin, fledging 3,066 bluebirds from 741 nest boxes last year. In 2000 and 2003 it was honored by the Wisconsin Conservation Congress for outstanding acheivement by a conservation club."
(Bluebird Summer 2005, page 5)